April Pressure Washing for Spring Cleaning
April Showers Bring May Flowers AND the Time to Pressure Wash Your Home
April is the month for real spring weather and for flowering trees and plants. It's also a great time to get the house and yard in shape, so you have time for all the great outdoor activities. Whether you like hiking, fishing, camping or just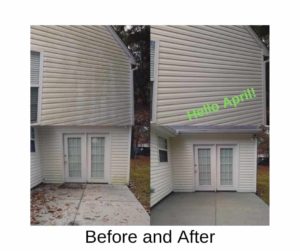 relaxing on the porch, now is the time to get the work done.
The professional pressure washing techs at MCP Softwash & Painting in Yorktown, VA can't help with weeding the flower beds or planting the vegetable gardens, but they can help in other ways. Their cleaning experts can pressure wash your siding, sidewalks, fences, decks and more. They can also clean the gutters and, using the softwash technique, clean the harmful elements off your roof. Making sure your gutters are clear is especially important with the spring rains soon to follow.
Call us (757-868-0420) in Yorktown, VA or contact us through our website today to schedule one of our highly-trained techs. And, while you're deciding what date works best for you, enjoy reading about the first full month of spring.
April Facts
April is the most popular month for planting and spring cleaning.
In the Southern Hemisphere, April is the same as October in the Northern Hemisphere.
The diamond of April — the birthstone — symbolizes innocence.
The Boston Marathon race is held every April.This year it is Monday, April 15th.
April 15th is also the deadline for filing taxes in the United States.
In Ancient Rome, the month of April was sacred to the goddess Venus.
The Japanese fiscal year for most businesses starts on April 1st (no fooling!).
In England there are many cuckoo festivals. The arrival of the cuckoo bird in April is a signal that spring has arrived.
April is the first full month of the professional baseball season in the U.S.
In the initial Roman calendar, April was the second month of the year. January and February were added in 700 BC. It is thought that the name April comes from the Latin word "to open," describing the trees opening in spring.
The April flowers are the Daisy and the Sweet Pea.
April has several special days and week-long and month-long celebrations. These include: April Fools' Day; Autism Awareness Day; Easter; Earth Day; Arbor Day; National Poetry Month; American Heritage Month; Teacher Appreciation Week; Jazz Appreciation Month; Alcohol Awareness Month; Cancer Control Month.
April Birthdays
CAROL BURNETT: APRIL 26, 1933
WASHINGTON IRVING: APRIL 3, 1783
MAYA ANGELOU: APRIL 4, 1928
WILLIAM SHAKESPEARE: APRIL 23, 1564
BOOKER T. WASHINGTON: APRIL 5, 1856
BILLIE HOLIDAY: APRIL 7, 1915
CHARLIE CHAPLIN: APRIL 16, 1889
THOMAS JEFFERSON: APRIL 13, 1743
MELANIE TRUMP: APRIL 26, 1970
Contact Us
If you would like to schedule us for a professional power washing appointment of your home, contact the MCP Softwash & Painting office in Yorktown, VA at 757-868-0420. Contact us here for a free estimate.
Our techs are the exterior cleaning experts in the greater Williamsburg, VA area, including Yorktown, Newport News, Hampton, and Smithfield.
We also offer interior painting services and exterior painting services.